8 Mobile Apps To Make Your Life Easier in China
Project Pengyou intern Mi-Yeon Park looks into mobile apps that make life in China easier for foreigners.
Inevitably, foreigners coming to China for the first time will face challenges adapting to everyday life. Not only are there language and cultural barriers to overcome, even the digital landscape is uncharted terrain. Living in China means giving up apps we are used to in the West such as Facebook, Instagram, Pandora; luckily, China has its own arsenal of mobile apps that can make life more convenient.
Check out the list below to see some of our favorite mobile apps in China:
---
1.Ele.me (饿了么)
Launched in 2009, Ele.me (饿了么)  is China's leading food delivery service, currently accounting for nearly 40% of the market share. 300,000 restaurants are registered on its online platform across 260 cities in China, and about $9.5 million orders from close to 40 million customers are received daily. Whether you are feeling lazy, busy, or just don't want to step outside, Ele.me is an ideal app to order in.
To order, simply type in the school/building name or street address to search for the closest restaurants. After selecting a restaurant and filling out the order information, customers can track their food and expect a quick delivery. Payment for online food orders can be made through popular Chinese payment methods including WeChat Payment, QQ Wallet, or Alipay.
2. Didi Dache (嘀嘀打车) and Kuaidi Dache (快的打车)
In the U.S., Uber may dominate the taxi industry, but in China, Didi Dache (嘀嘀打车), one of the two largest smartphone-based taxi services, reigns supreme. Founded in 2012, Didi Dache currently has over 100 million registered users, more than one million taxi drivers, and about 5.2 million orders per day across 300 cities. Didi Dache partners with Tencent's WeChat, China's largest and most popular chat app, allowing users to easily book and pay for rides.
Founded in 2012 as well, Kuaidi Dache (快的打车) is the largest car service company in the world that currently leads the Chinese taxi service industry with a 54.4% market share. Kuaidi Dache serves close to 200 million users across 300 cities in China, including Hong Kong, and provides a variety of choices of cars ranging from standard to luxury cars. Unlike Didi Dache, Kuaidi Dache depends on Alipay Wallet for customers to make their payments.
Whether you choose Didi Dache or Kuaidi Dache, both are heavily reliable based on their popularity in China.
3. Taobao (淘宝)
Taobao (淘宝) is comparable to popular American online shopping sites like eBay and Amazon. Launched in 2003, Taobao is an online marketplace that allows sellers to post new or used products and services for sale at a fixed price or through an auction. Similar to eBay and Amazon, Taobao features seller backgrounds, which include ratings, complaints, and comments on the products, for consumer satisfaction and convenience. Taobao is an ideal choice for those who are too busy to shop at stores or simply when a specific product cannot be found locally. Although the main payment option is Alipay, Taobao started to accept Visa, MasterCard, and PayPal as of 2012.
4. Baidu Maps (百度地图)
A component of China's most popular search engine, Baidu, Baidu Maps is a web mapping service application that offers satellite imagery, street maps, street views, indoor view perspectives, as well as a route planner for travel by foot, car, or public transportation. Before 2016, Baidu Maps only provided maps of Mainland China, Taiwan, Hong Kong, and Macau but now expanded to include maps of South Korea, Singapore, Thailand, and Japan. As of 2012, Baidu Map offers 360-degree, 3D digital imagery for select buildings, beating out Google in mapping.
5. Tuangou (团购)
Similar to Groupon, Tuangou or 'group buying' is an e-commerce marketplace that offers products and services at a discounted price under the condition that a minimum number of buyers would purchase. Groups of consumers can purchase vouchers online with up to 90% discounts at local vendors such as restaurants and movie theatres. Discounts, deals, raffles, and the availability of vouchers for a limited time, as short as 24 hours, create a sense of urgency for consumers to make their purchases.
Popular tuangou sites include Meituan, TeamBuy, LaShou, Qeeka, and Tuan800, but Meituan, the first tuangou site established in China, is the most relied on and accounts for the largest market share by revenue. Payment by PayPal and SMS updates are available especially for foreign consumers who do not own Chinese credit cards.
6. Air Quality Index (AQI) Monitor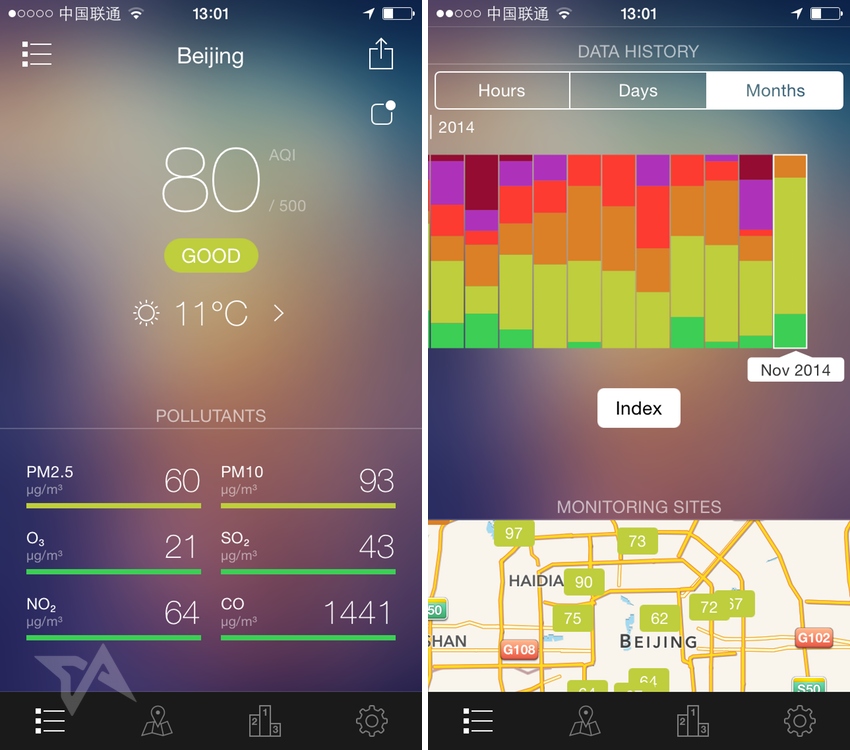 Air pollution is not unfamiliar to locals and foreigners alike. Although there is now a system in place to alert citizens to prolonged pollution, long-term exposure to higher smog levels (above 100) increases your chances of respiratory problems and even cancer. Checking the AQI daily and wearing masks is important for protecting your health when living in China.
Check out this post for tips on purchasing the best masks for China.
7. Pleco 
Founded in 2000, Pleco is a free English-Chinese dictionary application for iOS and Android devices. For study abroad students or foreigners working in China, this app provides an easy on-hand guide for useful Chinese vocabulary words and sentences. Features include pinyin input method, English words, audio recordings, HSK flashcards, Optical Character Recognizer (OCR), which allows users to take pictures of and translate characters, and even a handwriting function to personally write in characters users want to translate.
No matter what Chinese level you have, Pleco is a helpful guide for life outside of a classroom setting in China.
8. WeChat (微信)
You have probably already heard of WeChat before and of its immense popularity in China. You would be hard-pressed to find someone in China who doesn't use wechat.
Launched in 2011, WeChat is the largest and most popular instant-messaging app in China. Featured options include text-messaging, hold-to-talk voice messaging, broadcast messaging, video and voice calls, and sharing photos, videos, and locations. It also contains an innovative component to connect everything through e-Commerce in which users can book taxis, tables, and flights, shop online, invest, and even transfer money.
___________________________________________________________________________
Pengyous, which Chinese apps can you not live without?
Sources: Images from Tech163, CBInsights, OffbeatChina, ChairmanMedia, AsiaTechhub,VPNSP, TechinAsia, TrickyTaipei, CityWeekend, Linkfluence