10 Specialty Museums Worth Visiting in China
---
Every year, millions of people flock to China's world class museums to learn something about the country's rich culture and illustrious history. Places like the National Museum in Beijing and the Terracotta Army Museum in Xian perfectly capture snapshots from the past 3000 years in the form of statues and stone age ceramics. While everyone should experience these exhibits at least once, going off the beaten tourist path can be rewarding too. After all, history and culture is alive in places beyond the thin wall of glass separating you from the Ming Dynasty teapot at the Palace Museum.
Skip the long lines and pesky security with these 10 specialty museums that, while they won't be on many travelers' itineraries, will still let you have an enjoyable and educational experience without all the crowd and noise.
1. Daxing Watermelon Museum
Address: Panggezhuang Town, Daxing District, Beijing 102601, China
Hours: 7:30AM – 5:00PM, Sun-Sat
Entry Fee: 20 RMB
Fun Fact: The museum plays the instrumental Titanic soundtrack on loop. Why? Who knows.
Whole watermelons. Sliced watermelons. Perfectly ripe watermelons with their vibrant red insides and black seeds completely visible. Sounds like the ideal afternoon snack you'd shell out a few yuan for. But the watermelons I'm talking about this time aren't occupying your neighborhood fruit stand or grocery store. Instead, they're decorative wax pieces at China's Watermelon Museum. Located in the countryside just south of Beijing city proper, this bizarre but oddly captivating shrine to China's favorite summer fruit is chock full of watermelon history, cultivation methods, and even some ancient Chinese poetry dedicated to the fruit. None of the exhibits are captioned in English, but I have a sneaking suspicion that you won't need them to enjoy the experience. 
---
2. Shanghai Propaganda Poster Art Centre
Address: 868 Huashan Rd, Xuhui, Shanghai Shi, China, 200000
Hours: 10AM-5PM, Sun-Sat
Entry Fee: 20 RMB
Website: Here
Fun Fact: If you really like a poster, odds are the adjacent gift shop sells prints of it!
Somewhere in a basement in Shanghai exists an odd time capsule that takes visitors back 70 some years to the founding of the People's Republic of China. Yang Pei Ming originally started collecting propaganda posters in the 1990s to preserve their unique art styles and messages. Over the years, his collection has grown by the thousands into a vast and fascinating museum that offers visitors a poignant and intimate look into modern China's political and social developments during the Mao years. Most, if not all, of the pieces are carefully curated with detailed descriptions in both English and Chinese. 
---
3. Sanxingdui Museum
Address: Sanxingdui Historic Relics 618300, Guanghan, Sichuan, China
Hours: 8:30AM-6PM, Sun-Sat
Entry Fee: 80 RMB
Website: Here
Fun Fact: The 3 mounds that the site is named after are believed to be the remnants of a southern wall that once surrounded the ancient city.
In 1986, archeologists outside of Chengdu unearthed hundreds of various remarkable artifacts that heavily suggested the existence of a previously unknown civilization. The discoveries at what is now known as Sanxingdui, literally 'Three Stars Mound', challenged the long held historical narrative that there was only one Bronze-age civilization (the Shang Dynasty) that occupied China in roughly 1500 BC. In 1997, many of the discovered artifacts were moved to a nearby museum, where they continue to reside today. Anyone with even a cursory interest history should visit, as the entire museum represents an aspect of ancient Chinese history and culture previously unknown. Of notable interest are the bronze sculptures and masks, which have impressed many scholars with their unique styles and skilled craftsmanship.
---
4. Qianding Old Liquor Museum
Address: 69 Zhaofu St, Dongcheng Qu, Beijing Shi, China, 100007
Hours: 9AM-5:30PM, Sun-Sat
Entry Fee: Free!
Fun Fact: Someone will probably offer you an alcoholic drink at some point.
An homage to China's rich drinking culture, the Qianding Old Liquor Museum is home to a massive collection of rare fiery spirits from both modern and ancient times. The museum is made all the better by the fact that you're not just staring at some old empty bottles: all roughly one thousand of the chronologically ordered containers still contain some baijiu in them, including the Double Happiness wine produced during Emperor Kangxi's reign (1661-1722). The museum is also home to a variety of cultural and historical exhibitions, such as antique furniture and calligraphy sets. Finding the building might be a little difficult, but you'll know you've arrived when you see the jigsaw of distilling jars plastered into the walls. 
---
5. China National Tea Museum
Address: 88 Longjing Rd, Xihu Qu, Hangzhou Shi, Zhejiang Sheng, China
Hours: 9AM-5:30PM, Sun-Sat (Closed Mondays)
Entry Fee: Free!
Fun Fact: The museum doubles as a research center on tea and regularly holds conferences.
If you've never visited a tea farm and surrounded yourself on all four sides with the sights and smells of hundreds of green fields and beautiful landscapes, then it might be time to take a trip to Hangzhou and its famous Longjing village. And while you're there, it wouldn't be a bad idea to visit the National Tea Museum as well. Interspersed among the various tea fields, the museum is a group of exhibition halls that all showcase some aspect of China's rich history of tea culture, from the production process of the tea to the evolution of tea-ware throughout history. At some point you might start feeling thirsty, but fear not: the museum also regularly holds traditional tea ceremonies and visitors are able to taste teas of various flavors.
---
6. Nantong Abacus Museum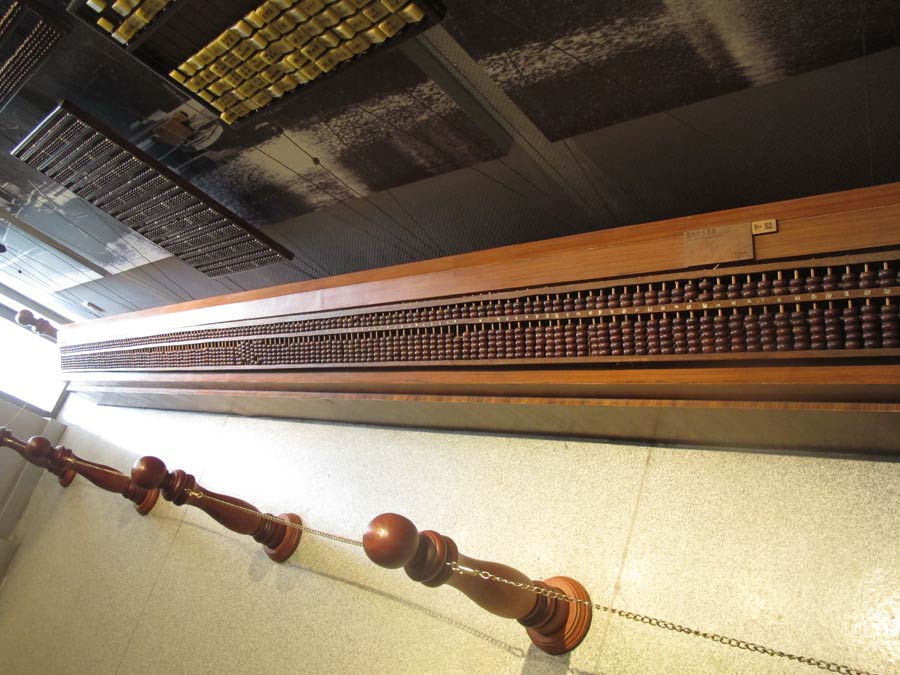 Address: No. 58 Haobei Road, Nantong, China
Hours: 9AM-11AM; 2PM-4:30PM, Sun-Sat
Entry Fee: Free!
Fun Fact: The museum houses more than 4000 volumes of historical abacus records.
Maybe you're able to compute complex mathematical equations with the abacus, or maybe you're more like me and don't even know what a single bead is supposed to represent on the device. Whatever your skill level, the Abacus Museum in Nantong is a fascinating place that grants visitors an in-depth look into the ancient calculating tools that were recently declared an intangible cultural heritage. The abacuses displayed in the museum are made of everything from the more traditional wood to ostentatious materials like pearls and gold. If you think just looking at counting devices might be boring, the museum also takes a more artistic approach by assembling the displays into various shapes like pagodas, and artwork depicting the use of abacus throughout Chinese history is also presented.
---
7. Yunnan Nationalities Museum
Address: No.1503 Dianchi Road, Xishan District, Kunming, China
Hours: 9AM-4PM, Mon-Fri
Entry Fee: Free!
Fun Fact: Yunnan is the most ethnically diverse province in China! 25 of the country's 56 recognized ethnic groups are found in this region.
Considering that about 92% of China's population is of Han origin, it can be easy for the 55 ethnic minorities within the country to take a background role in most people's ideas about China. However, these people, numbering nearly 10 million, also have rich stories and cultures that should be shared. Yunnan, one of the most ethnically diverse provinces in China, is home to the country's largest nationalities museum, which houses over 40,000 cultural relics of ethnic minorities. The exhibition series displays everything from clothing to rare jades, with plenty of information on various cultural heritages such as traditional dances and folk art. The museum is also only a few kilometers away from the Yunnan Nationalities Village, and the two locations combined remind visitors that minority culture, wondrous and vibrant thing that it is, still exists in China.
---
8. Museum of Oriental Musical Instruments
Address: 18 Gaoan Lu, near Hengshan Lu, Xuhui district
Hours: 9AM-5PM, Sun-Sat
Entry Fee: Free!
Fun Fact: The largest instruments are a replica of the set of bronze bells unearthed from the tomb of Yi, Marquis of Zeng.
Music and history intersect at this small museum affiliated with the Shanghai Conservatory of Music. Everything from ancient Tang dynasty lutes inlaid with emeralds and agates to modern erhus that are still consistently used in Chinese orchestras are carefully put on display. Among the pieces are roughly 2500 year old stone pan pipes unearthed from ancient tombs in Henan province. The museum also contains various instruments from ethnic minorities, as well as several collections of music instruments that originate from India, Thailand, and other various countries. 
---
9. Shijia Hutong Museum
Address: 24 Shijia Hutong, Dongcheng District, Beijing Shi
Hours: 9:30AM-4:30PM, Tue-Sun
Entry Fee: Free!
Fun Fact: The courtyard once belonged to Ling Shuhua, who allegedly had an affair with Virginia Wolf's nephew, poet Julian Bell, in the 1930s.
Beijing's rapid modernization means that, in recent years, many of the city's beloved hutongs (narrow alleyways lined by traditional courtyards) are disappearing in favor of more modern streets and buildings. In an attempt to preserve the distinctive traditional architecture and history, the first hutong museum was founded. Based in a tree-lined courtyard that used to be the residence of a famous writer, the museum's displays are clearly presented in both English and Chinese, and one of its most notable displays is a scale model of Shijia Hutong in 1949. Other displays highlight former residents of the hutong, and another model demonstrates what a typical home might have looked like in the 50s and 60s.
---
10. Beijing Planning Exhibition Hall
Address: 20 Qianmen E St, Dongcheng Qu, Beijing Shi, China
Hours: 9AM-5PM, Closed Mondays
Entry Fee: 3o RMB
Website: Here!
Fun Fact: There are two movies shown in the multimedia hall: City of Eternity and Future City
A visit to this urban planning hall is an extended exercise in the surreal. Models, reliefs and sculptures all depicting Beijing in miniature form flash before your eyes as the exhibits take you through the history of the ancient capital and cover its transition into the modern metropolis that it is today. The highlight of the hall is a massive scale model of the entire Beijing metropolitan area, which takes up an entire floor and has to be viewed from above. The exhibition hall also shows movies relating to the city's 800+ years of history, and visitors can also take a sneak peek into what the future might look like for Beijing's houses and railway systems.
---
What museums have you been to or would like to go to? Are there specialty museums in the US that people should know about? Comment below!
---